6-week Watercolor & Ink Travel Journal Workshop
Class begins Tuesday 5/2 12:30-2:30pm
Class dates 5/2, 5/9, 5/16, 6/6, 6/13 and 6/20
Instructor: Mary Gulino
Tuesdays 12:30-2:30pm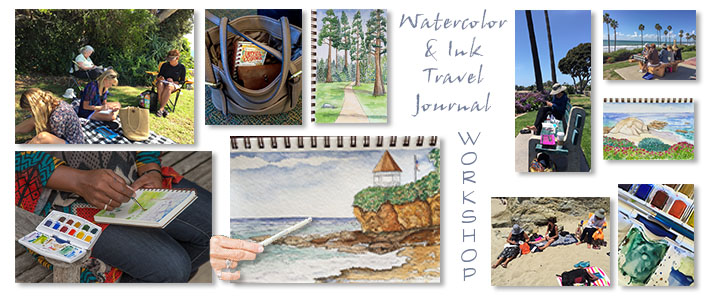 NO EXPERIENCE NECESSARY!!
This workshop is for ALL levels: beginners to experienced artists are welcome!
Have you ever wanted to capture the essence of a place by drawing or painting it? We will be in class and on location outdoors creating a travel journal with portable supplies that you can take on vacation or anywhere you'd like, including a stroll along the beach or at a park.

Join us for six weeks of pure joy sketching, painting and inking different scenes in our travel journals. We will journey to a new location each week.  Learn the finer techniques of how to assess a scene and create a quick sketch, control paint flow and transparency with washes, elements of composition and design, how to create balance and unity and how colors interact to create depth in a scene.  Finally, we will bring life to each painting with inking with superfine permanent technical pens, learning outlining and different texturing and shading techniques.

Instructor will conduct short demos & spend time with each student individually.

Explore your inner creative self & express your own individual vision & style.

Students can paint live or choose a photo of something they'd like to paint
SIGN UP FOR THIS WORKSHOP TODAY!!

Supply list will be provided upon registration
Check out our suggestions in the Art Shop for Amazon here.

Class size is limited to only 6 students

If these dates don't work with your schedule or if you'd like one-on-one individual attention
outside of a classroom environment on your schedule, at a location of your choice,
CLICK HERE FOR INFO ON ONE-ON-ONE PERSONALIZED LESSONS
CLICK HERE FOR A SCHEDULE OF UPCOMING CLASSES IN LAGUNA BEACH, CA & ARIZONA
FOR WORKSHOPS AT THE PERA CLUB IN TEMPE, AZ, EMAIL US AT MARY@MYARTISTLOFT.COM

"It is with
the
first step
that
reality
becomes
what
you've
always
dreamed
of."
~ Mary Gulino