12-WK *3-HOUR* LIVE ONLINE ZOOM BEGINNING / INTERMEDIATE WATERCOLOR WORKSHOP
CLASS BEGINS WEDNESDAY 9/28 2-5PM
CLASS DATES 9/28, 10/5, 10/12, 10/19, 10/26, 11/2, 11/9, 11/16, 11/23, 11/30, 12/7, 12/14
12 CLASSES FOR THE PRICE OF 8 - GET 4 FREE CLASSES! REG. $450 SPECIAL COST $300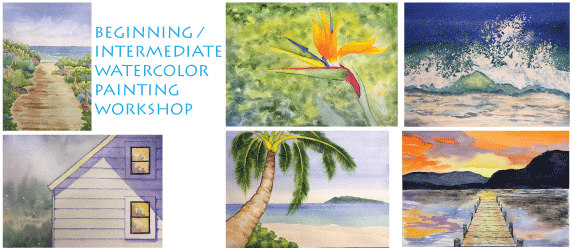 LEARN THE BASICS OF WATERCOLOR PAINTING AND HOW TO CONTROL THE PAINT TO WATER RATIO, PROPER USE OF PAINTBRUSHES, MASKING AND A VARIETY OF PAINTING TECHNIQUES INCLUDING WET-ON-WET, WET-ON-DAMP, WET-ON-DRY , DRY BRUSH AND GLAZING AS WELL AS SUCCESSFULLY LIFTING COLOR.
GAIN AN UNDERSTANDING OF PAINT CHARACTERISTICS, PROPER PERSPECTIVE AND THE ELEMENTS OF COMPOSITION AND DESIGN AND HOW TO CREATE BALANCE, UNITY AND DEPTH IN A PAINTING.
PAINT ALONG WITH THE INSTRUCTOR EACH WEEK AND PARTICIPATE IN BI-WEEKLY CRITIQUES OF STUDENT WORKS. * CLASSES WILL BE RECORDED AND AVAILABLE TO VIEW OR DOWNLOAD. *
ALL SKILL LEVELS WELCOME. CLASS IS REPEATABLE.
SIGN UP FOR THIS WORKSHOP TODAY!!
Supply list will be provided upon registration
FACE MASKS COVERING NOSE & MOUTH ARE HIGHLY RECOMMENDED
IN ALL IN-PERSON CLASSES
* All workshop fees are non-refundable. Credit toward the next available workshop of the same subject will be given if cancellation is made more than 24 hours prior to the beginning of the registered workshop. No credit will be given if cancellation is made less than 24 hours prior to the beginning of the registered workshop. *
* This information is subject to change. *
If these dates don't work with your schedule or if you'd like one-on-one individual attention
outside of a classroom environment on your schedule, at a location of your choice,
CLICK HERE FOR INFO ON IN-PERSON OR LIVE ONLINE ONE-ON-ONE PERSONALIZED LESSONS
FOR INFO ON CLASSES IN CA & AZ, EMAIL US AT MARY@MYARTISTLOFT.COM


"It is with
the
first step
that
reality
becomes
what
you've
always
dreamed
of."
~ Mary Gulino