Instructor: Mary Gulino
@ LBUMC & On Location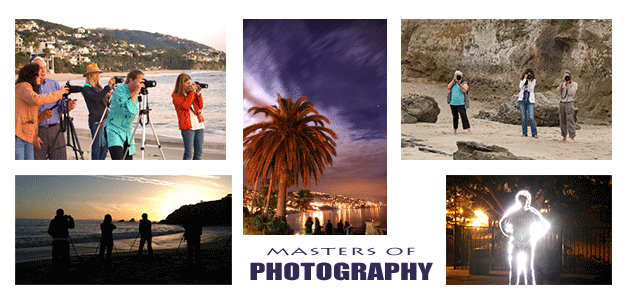 Photos taken by students Diane Alms (top left), Lisa Clark (top middle), Lynn Beeler (top right),
Barbara Hewitt (lower left) and Gerry Hammarth (lower right).
MASTER YOUR CAMERA NOW & HARNESS THE LIGHT!
Discover how to really 'see' your subject matter before clicking.
Learn how to paint with light and get some really creative and unique shots.
Experiment with aperture, shutter speed and ISO to achieve a perfect combination
of depth of field, light and color in your photographs.
This is a great opportunity to learn some new and fun tricks and tips.
Students will need a tripod, wireless or wired remote and a high lumens flashlight.
Masters level class assumes student has good working knowledge of
camera's manual settings and/or has taken Beginner Photography.

Delve into a more artistic exploration of photography,
with different, interesting projects and critiques.
Also, enjoy four to five on-location & indoor shoots where you'll be able to shoot at various locations
as well as indoors in a studio-type environment alongside the instructor.
Projects may include specific creative topics relating to:
Composition, Landscapes, Lighting, Portraits, Motion, Architecture, and/or Still­life
Maximizing use of different manual/semi-manual settings on your camera
Practicing use of a tripod to maximize your clarity and use your optimum settings
Successful framing and composition of a photograph
All camera types welcome!
This class is repeatable.
SIGN UP FOR THIS WORKSHOP TODAY!!

CLASS DATES: 3/9, 3/23, 3/30. 4/6, 4/13, 4/20 (***NO CLASS 3/16***)
EVENING WORKSHOP BEGINS MON 3/9 5:30-7:30pm Reg. $299 SPECIAL PROMO PRICE $199.99

Sign up today and lock in this special promo pricing!!
SIGN UP WITH A FRIEND!!

Classes held at LBUMC
* All workshop fees are non-refundable. Credit toward the next available workshop of the same subject will be given if cancellation is made more than 24 hours prior to the beginning of the registered workshop. No credit will be given if cancellation is made less than 24 hours prior to the beginning of the registered workshop. *
* This information is subject to change. *
If these dates don't work with your schedule or if you'd like individual attention,
CLICK HERE FOR INFO ON IN-PERSON OR LIVE ONLINE ONE-ON-ONE PERSONALIZED LESSONS
CLICK HERE FOR A SCHEDULE OF UPCOMING CLASSES IN LAGUNA BEACH, CA
FOR LIVE ONLINE 1-ON-1 PERSONALIZED LESSONS & WORKSHOPS, EMAIL US AT MARY@MYARTISTLOFT.COM